167

Mark Pickerel

Your browser does not support this media format. click here to listen.

This week, Mark pickerel (former drummer of The Screaming Trees, Truly and a short lived project with Nirvana's Kurt Cobain) stops by to chat about growing up in a small town, being an outast, we swap stories about the Air-Raid web designer Sam, and his new album "TESS".

We also chat with Donald and Bryan of Naked City Brewery, who just so happen to be the new sponsors of this here show! So please show them some support and visit, drink, eat, and be merry!

Music Featured In This Week's Episode: Mark Pickerel and His Praying Hands
Podcasting is a labor of love... AND money. Throw us a bone here or on the merch page!
Subscribe
Host & Producer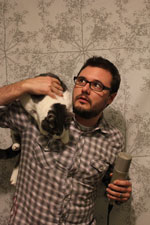 Infamous Mud Wrestling Promoter-turned-airwave-Media-Mogul, Aaron (a.k.a. Harvey Banger) kicks back between podcasts with his Fender Jaguar and a half-rack of PBR. He resides in Seattle with his wife, their beautiful daughters, and two tamed mountain lions.
Contact
email: aaron@air-raid.net