308

SLOUCHER

Your browser does not support this media format. click here to listen.

Jay Clancy of the Seattle band, SLOUCHER, joins us this week to talk about their AMAZING new album 'Certainty' (out now on Swoon Records), first rock shows, drumming competitions as a child, and his admiration for Hanson.

Music Featured In This Week's Episode: SLOUCHER
Podcasting is a labor of love... AND money. Throw us a bone here or on the merch page!
Subscribe
Host & Producer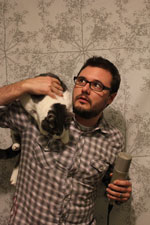 Infamous Mud Wrestling Promoter-turned-airwave-Media-Mogul, Aaron (a.k.a. Harvey Banger) kicks back between podcasts with his Fender Jaguar and a half-rack of PBR. He resides in Seattle with his wife, their beautiful daughters, and two tamed mountain lions.
Contact
email: aaron@air-raid.net