311

Brett Netson / Shane Torres

Your browser does not support this media format. click here to listen.

This week Brett Netson of Caustic Resin, Built to Spill, Earth joins us to chat about the ups and downs of the band Caustic Resin, how begging his grandparents for a guitar started a life trajectory, psychedelic drugs, and the re-release of the amazing 1998 Caustic Resin album 'THE MEDICINE IS ALL GONE'.

PLUS! Comedian Shane Torres calls in to chat about some upcoming shows coming to a city near you!

Music Featured In This Week's Episode: Caustic Resin
Podcasting is a labor of love... AND money. Throw us a bone here or on the merch page!
Subscribe
Host & Producer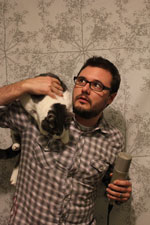 Infamous Mud Wrestling Promoter-turned-airwave-Media-Mogul, Aaron (a.k.a. Harvey Banger) kicks back between podcasts with his Fender Jaguar and a half-rack of PBR. He resides in Seattle with his wife, their beautiful daughters, and two tamed mountain lions.
Contact
email: aaron@air-raid.net