312

Tall Heights

Your browser does not support this media format. click here to listen.

Tim Harrington (guitar/vox) of the band Tall Heights joins us to chat about how anxiety and nervousness can be a good thing, their upcoming national TV appearance on CONAN, and how busking started it all.

Music Featured In This Week's Episode: Tall Heights
Podcasting is a labor of love... AND money. Throw us a bone here or on the merch page!
Subscribe
Host & Producer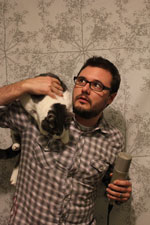 Infamous Mud Wrestling Promoter-turned-airwave-Media-Mogul, Aaron (a.k.a. Harvey Banger) kicks back between podcasts with his Fender Jaguar and a half-rack of PBR. He resides in Seattle with his wife, their beautiful daughters, and two tamed mountain lions.
Contact
email: aaron@air-raid.net