PODCASTS
results 1–5 of 319
This Week's Episode
315

A Special Message and Ep #4 of Artist Home w/ Eric Howk of Portugal. The Man

listen

A special message to all who have listened to Air-Raid over the years. Plus Episode #4 of the all new podcast Artist Home with guest Eric Howk of the Billbord #1 hit making band; Portugal. The Man.
Podcasting is a labor of love... AND money. Throw us a bone here or on the merch page!
Subscribe
Host & Producer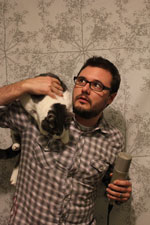 Infamous Mud Wrestling Promoter-turned-airwave-Media-Mogul, Aaron (a.k.a. Harvey Banger) kicks back between podcasts with his Fender Jaguar and a half-rack of PBR. He resides in Seattle with his wife, their beautiful daughters, and two tamed mountain lions.
Contact
email: aaron@air-raid.net